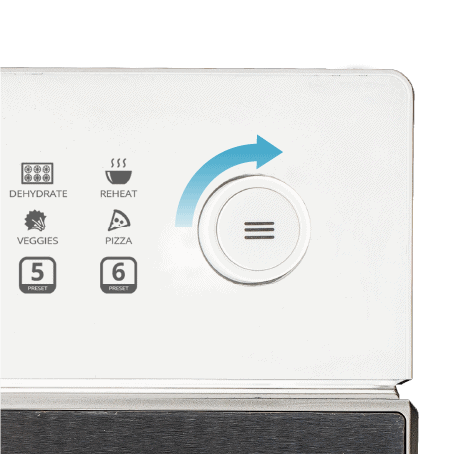 Quickly, select any of the 18 Presets including 6 Custom Presets that let you skip the guesswork.
Bake, fry, roast, dehydrate, reheat, toast, and grill your favorite meats, breakfasts, desserts and vegetables faster than ever with the Ariawave! Its powerful Air Frying technology with 6 heating elements replaces multiple appliances and cooks in less time than traditional ovens, while reducing the fat in your food by up to 90% and eliminating the need for oil. An Oversized 36Qt capacity can fit a 13 in. pizza, and with 3 cooking levels it allows you to cook multiple dishes or more of your favorites for the whole family or all your guests! Six heating elements ensure your fries, vegetables and frozen snacks are perfectly prepared. An LED touchscreen also features 10 Programmable One-Touch Cooking presets and 6 Fully Customizable Presets for popular meals such as chicken, beef, vegetables, dessert, and more. The Ariawave's versatility provides an endless amount of possibilities – and we've included multiple accessories to maximize the cooking area so you can prepare different dishes at the same time. With the dehydration mode, you can preserve your favorite fruits, vegetables, and meats conveniently at home, using your own ingredients that you trust. The included full-color cookbook lets you prepare mouth-watering meals right away. Traditional appliances like a deep fryer, microwave, toaster, convection oven, dehydrator, slow cooker and more can all be replaced with just one device – the Ariawave!
Dimensions: 20.875 x 18.9 x 17.72in
Weight: 34lbs
Watts: 1800
Ariawave Digital Air Fryer Oven
2 Grill Racks
2Ceramic Pans
Air Fryer Basket
Rotating Rotisserie Fork
Rotating Cage
Handle
Drip Tray
Full Color Recipe Cookbook with Exclusive Recipes and Vegan/Keto Options
User Guide
Limited Lifetime Warranty Terms
First 60 days after purchase date: If any problems, we'll replace your unit at no cost but you'll be responsible to pay shipping both ways to get your product back to us and for us to send you a new one.
After 60 days of purchase date: If any problems, we'll repair it or replace unit at no cost to you if we determine that the product is not damaged due to improper use and is a problem due to manufacturing deficiencies. You'll be responsible to pay for the shipping cost both ways, to and from our location.
Accessory Replacements: We'll ship you a free replacement, you'll cover the shipping cost.
{{ reviewsTotal }}
{{ options.labels.singularReviewCountLabel }}
{{ reviewsTotal }}
{{ options.labels.pluralReviewCountLabel }}