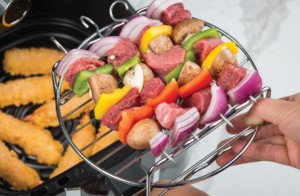 Four flat skewers perfect for vegetables, seafood & meats.
Two-tier stainless-steel rack which doubles your cooking area and allows for cooking different dishes at once.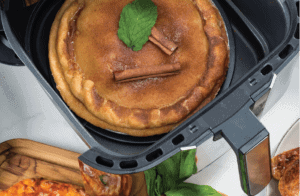 Baking pan ideal for cakes, omelettes, cookies, quiches, and more!
Allows you to prepare food for the entire family or all your guests – Roast an entire mouth-watering chicken, sauté sizzling vegetables, or bake rich desserts for everyone to enjoy
Dishwasher-Safe
Ceramic Baskets
Our Teflon-Free, PTFE-Free, and PFOA-Free materials are safer, more durable, and Eco-Friendly
Our powerful air fryer technology heats to 400° in seconds so you can cook faster than a traditional, convection, or microwave oven.
Industry Leading
Lifetime Warranty
With a Lifetime Warranty on all accessories, a 1 Year warranty on the product and our friendly live customer service, you can enjoy your favorite meals with confidence.