Powerful 450° SuperHeat cooks your food up to 30% faster and delivers powerful air for extra crunchy results! It also heats in seconds – 15x faster than your stovetop oven!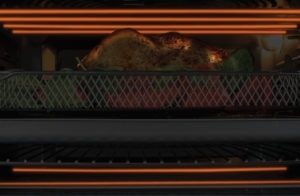 6 heating elements on top and bottom along with powerful Air Frying technology cook your food evenly from all angles for mouth-watering, crispy results so each bite is a delight.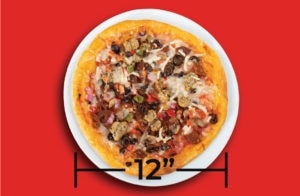 Family Sized
Spacious Design
Fits multiple 12″ pizzas, a juicy 5.5lb chicken, 6 slices of toast, a whole cake, and much more – perfect for the whole family or guests!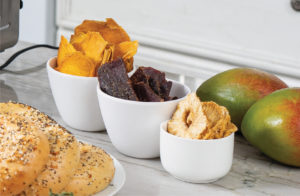 Dehydrate Fruits
& Meats for Later!
Dry & preserve your favorite fruits, vegetables, and meats conveniently at home using ingredients you trust!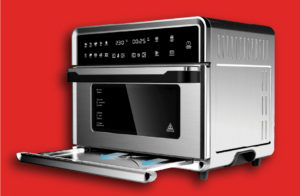 Removable Crumb
and Drip Tray
The Drip Tray catches excess oil while the Crumb Tray collects bits of food for easy disposal. Both stainless steel trays are completely removable for effortless cleaning in the dishwasher.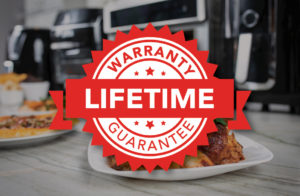 Industry Leading
Lifetime Warranty
With a Lifetime Warranty on all accessories, a 1 Year warranty on the product and our friendly live customer service, you can enjoy your favorite meals with confidence.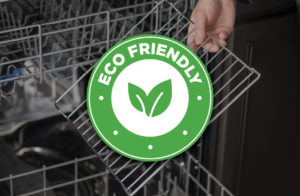 Teflon Free
Dishwasher Safe Parts
Our Teflon-Free, PTFE-Free, and PFOA-Free materials are safer, more durable, and Eco-Friendly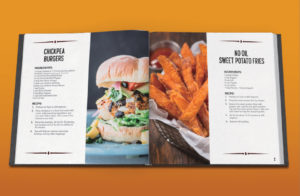 Exclusive Chef-Curated
Recipe Book
Exclusive mouth-watering recipes to try right away, curated by the champions of ABC's Family Food Fight and classic recipes with Vegan & Keto options from Chef Mario Fabbri!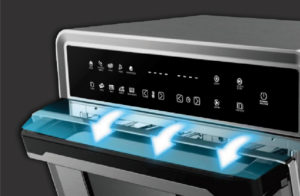 Auto-shutoff sensors safely turn the unit off as soon as the door's opened, and the timer resumes when the door closes again. It's also ETL-Listed for advanced protection.
Grill, fry, dehydrate, roast, toast, bake, reheat, and broil your favorite meats, breakfasts, desserts and vegetables faster than ever with the Aria 30Qt Air Fryer Oven! It has all the features to make it your new "Go-To Appliance" as its high-speed Air Frying technology replaces multiple appliances and cooks in less time than traditional ovens, giving you mouth-watering crispy results while reducing the fat in your food by up to 90% and eliminating the need for oil! 
30Qt 1800W Air Fryer Toaster Oven
Air Fryer Basket
2 Universal Grill Racks
Drip Tray
Crumb Tray
Full-Color Recipe Book